Tactical Military Grade Dog Harness With Handle
1.5″ Tough Tactical Rigid Collar
Heavy Duty Large Dog Training Leash And Morale Patch - Collar Leash Harness Set
Loved By 10,000+ K9 Lover. More comfort, Extra durability with tactical Harness and Collar.
Tactical harness for dog and military grade k9 collar for large/extra large dogs such as German Shepherd, Husky, Malinois.

Extra Tough Harness For Extra Tough Dogs!

Using a Tactical No-Pull Dog Harness instead of a collar makes it easier to Control any dog!
Reduce Pulling and Take Back Control! Our Tactical No-Pull Dog Harness spreads pressure over a larger area of your dog's body, Reducing Strain on their neck and back!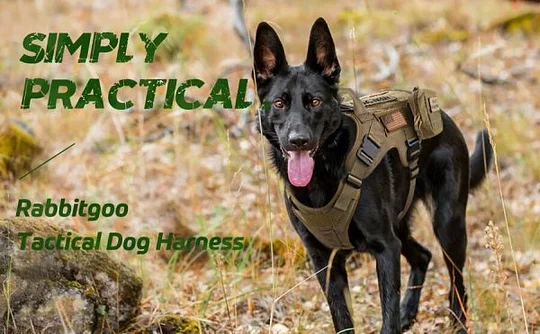 You want only the best when it comes to a proper outfit for your canine companion. The harness should also be practical, for both you and your four-legged friend.
No Discomfortable Pull – Well padded with 8 pressure release points that evenly distribute pressure to the dog's body preventing pulling and choking.

Service Dogs – Help carry water bottles, medications, and ID tags

Police/Military/Working dogs – Give protection, maximum control, and extra storage for equipment

Hunting Dogs – For carrying supplies and great visibility while out in the wilderness

Outdoor Companion Dogs – Exercise and play with comfort and safety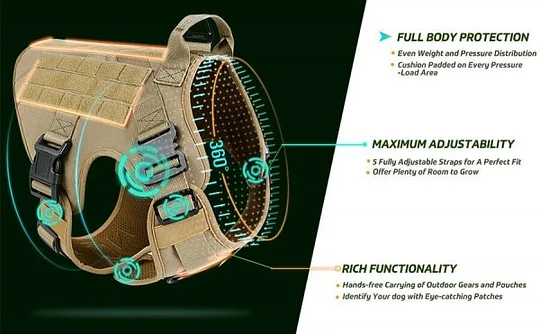 DURABLE & EASE OF USE MILITARY HEAT SHRINKABLE MATERIAL
1050D Nylon Resistant Vest with stitched seams is suitable for all types of fields.

Two Metal Shoulder Buckles can withstand great traction force, ensuring that your dog is safe during training, hunting, work, and any other occasion.

Well-Padded Load Point at each pressure to protect your dog's skin, while the breathable air mesh keeps your dog ventilated & comfortable.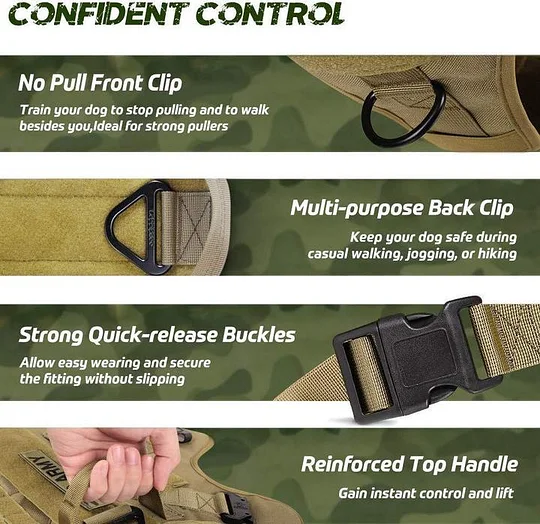 MAXIMUM SAFETY CONTROL
Reinforced Upper Handle with 2 Metal Strap fixing points for Greater Control & Easy lifting aid in general & treacherous situations.

Front Clip for control without jerks or dog training and Back Clip is used for walking or running casually.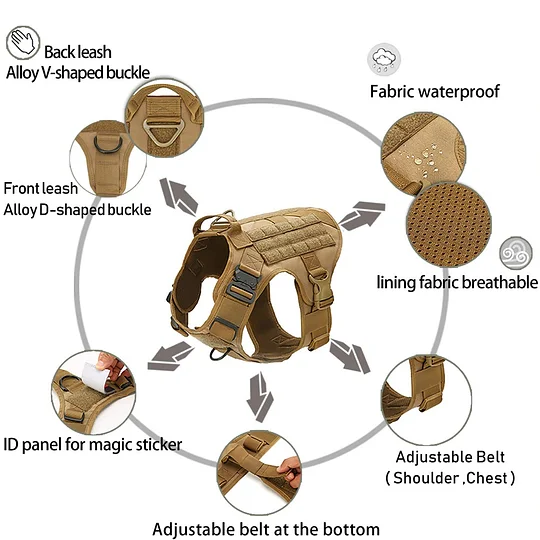 Powerful MOLLE System – Two rows on either side that can easily carry your pouches, bottles, and essentials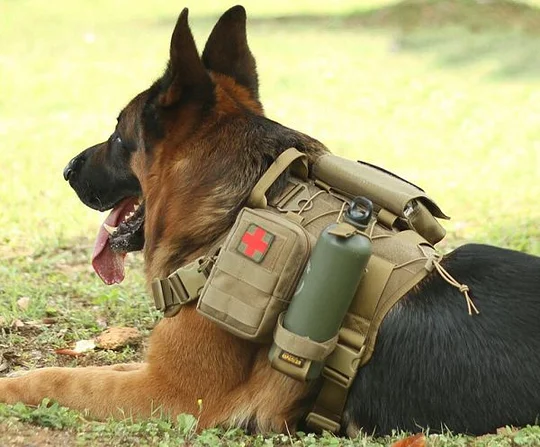 Hook-and-Loop Panels – Multiple Velcro strips where you can attach morale badges to identify your special companion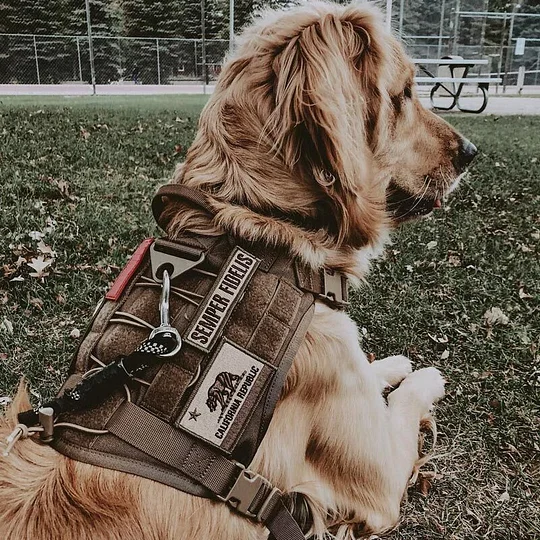 Important Prompt: Please measure your dog carefully before the purchase. Refer to the product image for the detailed size chart. Let us know anytime if you're not sure about the size, or you find the harness doesn't fit your dog well.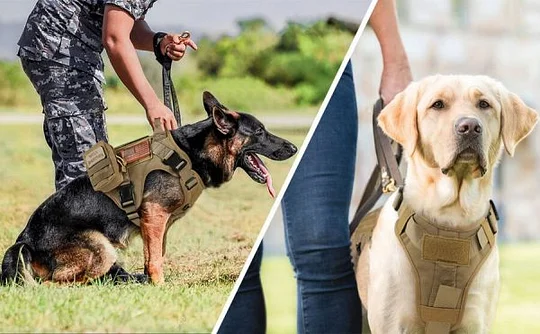 Enjoy peace of mind. Engineered for walking, jogging, training, and hunting
Veterinarian approved

Safer dog walks and more control

Facilitates training

Reinforces good behavior

Can be used as a no-pull harnes
Adjustable sizes fit all dog breeds!
Perfect for Labradors, German Shepherds, Pitbulls, Huskies, Great Danes, Golden Retrievers, Mixed Breeds, & More
Police/Military/Working Dogs - Maximum Control, Given Protection, And Extra Storage For Equipment
Hunting/Outdoor Companion Dogs - For Carrying Their Own Food And Water, Helping Them Exercise, And Expend Energy. Visual Indication While Out In The Wilderness
Service Dogs - For Carrying Medical Supplies, Water, And Emergency Items, ID And Tags


No Pull Front Clip

For better training and reducing the reflexive response to pull while walking, working and etc.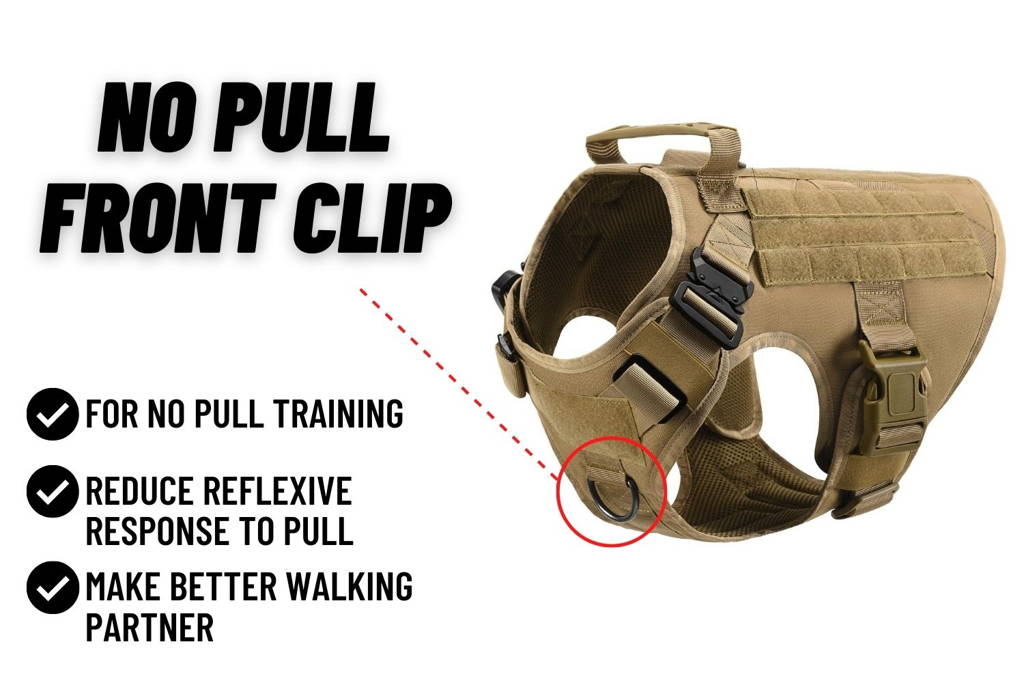 Metal Buckles


K9 tactical harness
includes 2x Metal Buckles with
1000 LBS Proof-Load test
on dog shoulder which is the heaviest load point when pulling.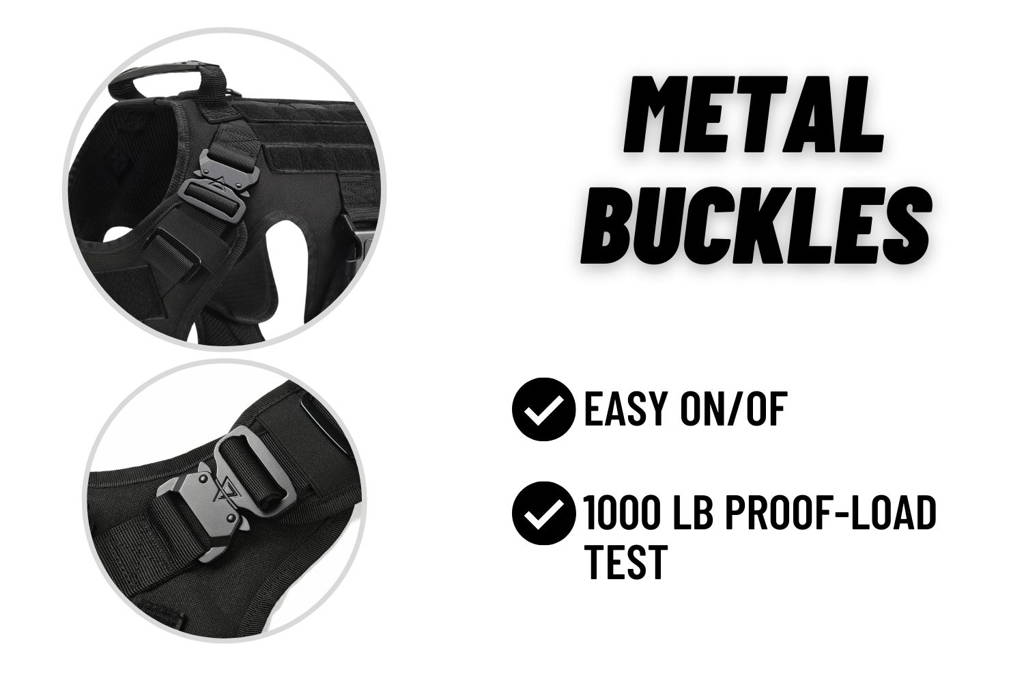 Durable Material
Tactical Dog Vest is Heavy Duty and made of 1000D Nylon Durable material, breathable and soft.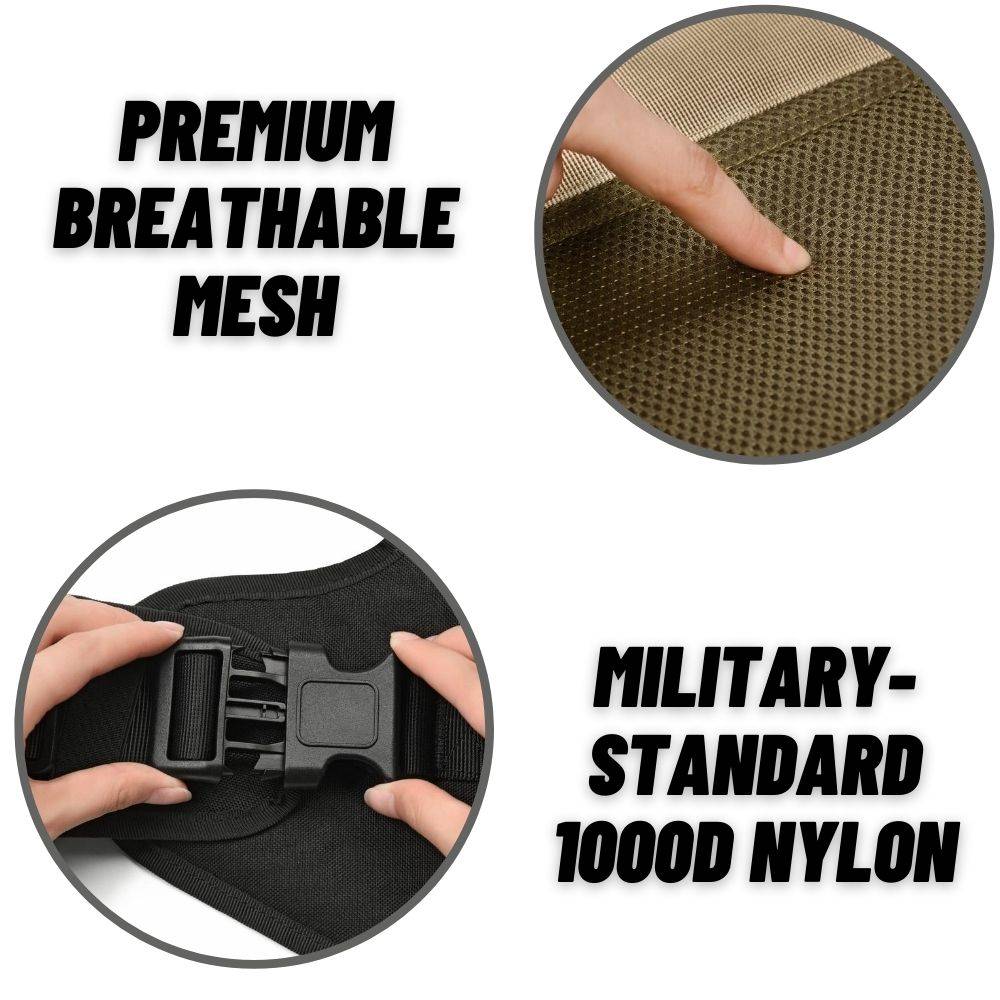 SIZING CHART

Please measure your dog's chest and neck carefully for the perfect fit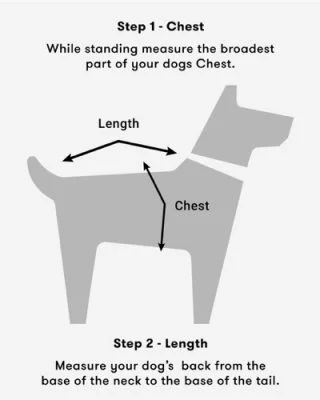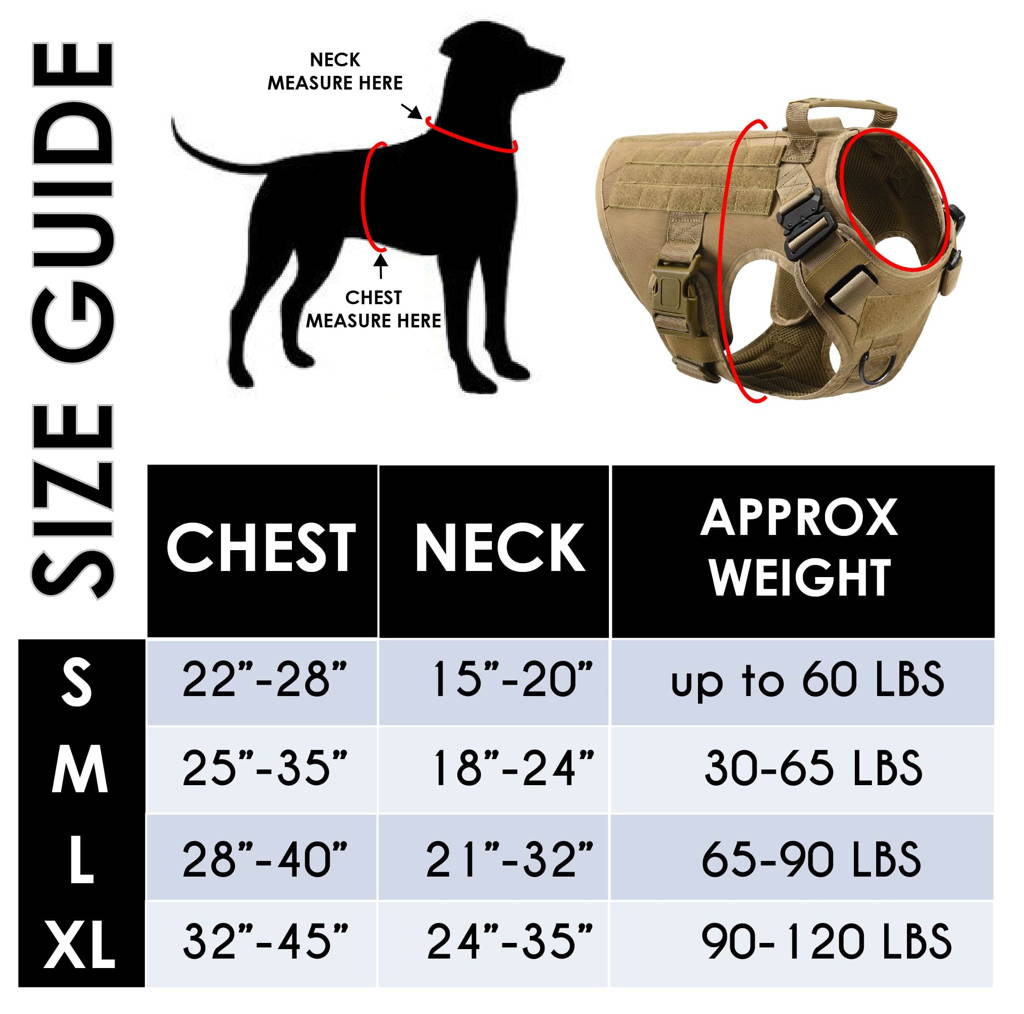 1 x Tactical Dog Harness
1 x Tactical Retractable Dog Leash
1 x K9 Tactical Dog Collar
Note: Remember to note the vest's logo when placing an order, such as the name and the owner's phone number.