Want To Watch Movies In The Best Theatre In The World Without Leaving Your Home?
🎬

🍿

Attention movie lovers! Here's how to turn your living room or bedroom into the ultimate home cinema experience and place of pure relaxation. Whether on your ceiling or wall you can watch all of your favourite movies or tv shows while lying in bed snuggling with your loved ones.
Don't Have A TV? No Problem! 📺
We want to assist you in resolving this problem because everyone deserves a large screen in their living area where they can watch whatever they choose. We recognise that sometimes you may not have enough room in your bedroom for a TV or that they are simply too expensive generally in today's world.
Our Mini Projector is probably smaller than your phone, which means it is easily transportable. Fit it in your pocket or purse without getting weighed down and IT'S 5x lower price than an actual HD TV!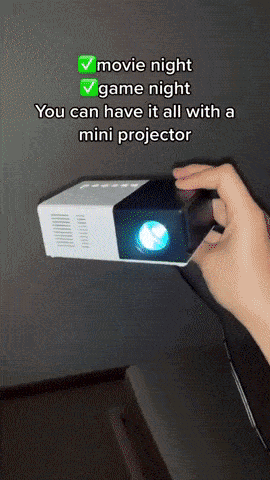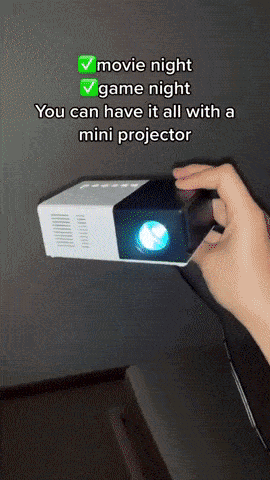 Be Anywhere In The World With No Limitations 🌎
With Mini Projector, You can teleport anywhere in the world and see the beauty of different places in your own living space. Mini Projector's "Fake Window" feature is the most popular thing that people are excited about the most, Simply go on Youtube and choose any "Fake Window Videos" and enjoy a beautiful day in Dubai or a rainy day in London! Limitless Possibilities in your own imagination.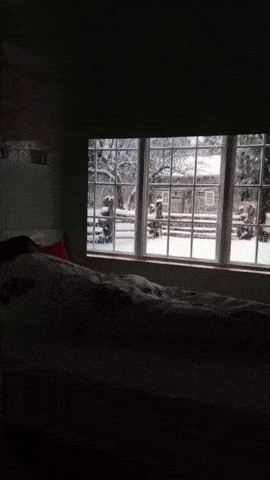 Multimedia Supports Almost Everything!
😍
The Mini Projector not can only connect to your smartphone to make it the best smartphone projector in the world but it is the best projector on the market due to its compatibility with almost any and every device, ranging from iPads, consoles (PS/Xbox/Nintendo Switch), Any Laptops, PCs, Fire/Roku sticks, and much more!
BENEFITS
✅ Make It Your Own Personal Theatre!
✅ Create a Romantic, Cosy, Relaxation, Calming Atmosphere Instantly
✅ Perfect First Date Idea
✅ Watch Every Movie and TV Shows On The Ceiling or Wall
✅ Make the Screen As Big or Small As You Want!
✅ No More Need For Expensive TVs
✅ Can Be Powered By Power Bank
✅ Outdoors and Anywhere
✅ Perfect For Camping Movie Night!
✅ Teleport Anywhere In The World And See The Amazing Views
✅ Perfect Gift For A Spouse, Friend, Family Or Yourself!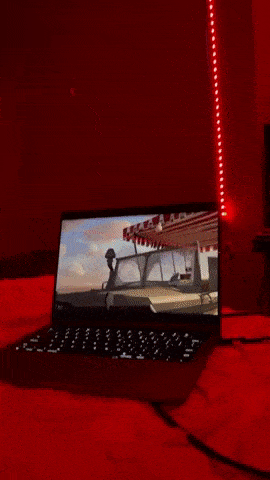 Feel Safe With A 14 Day Money Back Guarantee
Feel safe with a 14-Day Money Back Guarantee - We are Australia's leading supplies store, if the product arrives damaged, broken or out of shape, feel free to contact us within 14 days of arrival and receive a FULL REFUND no questions asked!
Features/Specs
Bright and Vibrant Quality

🔆

Accurate colours and rich contrast with deep blacks and bright whites make everything really pop At 1000 lumens. Our Mini Projector is really the best of its kind on the market! You can always change the settings of brightness, contrast, colour and more within the settings.
Compact & Portable

🧳

4.9 x 3.3 x 1.7 inches and weighing ONLY 8.6 oz. The perfect grab-and-go-on-demand projector!
Built-in Speaker

🔊

Our Mini Projector has its own built-in speaker! It also features a special port to use your own external speakers!
Projection Size

📏

It can project up to 80 INCHES (Incredible) and as small as 24 inches
Outdoor Use

🏕️

Mini Projector can be powered from anywhere! If you don't have access to any power due to being outdoors then you don't need to worry as it can also be powered by a power bank! Just plug in and enjoy the movies. Perfect for camping, business meeting and travels!
Connect Anything

🔌

It can be connected to almost anything that has HDMI, USB, or AV Connections! Perfect for anyone!