Key Benefits
Safe and Sharp Blade - High quality 33-tooth titanium blade and ceramic movable blade cooperate to provide excellent cutting performance, while surpassing the standard 24 or 26-tooth blades including most pet clippers. It always keeps sharp and ensures high durability. Detachable blades, easy to change and clean.

Low vibration and Noise Design - Many pets get stressed and uneasy by the sound and the vibration of pet grooming clippers. But our dog grooming clipper uses low vibration and low noise design, the noise is about 50DB when it works, so you can safely trim your pet with our pet grooming tools, you don't need to worry about scaring or hurting your lovey pets.
Precision Powerful Motor - Professional heavy-duty gears can achieve proper and powerful cutting, 3-speed rotary motor can satisfy professional requirements. This ensures that pet hair is not pulled or damage during the trimming process. Even if you have never trimmed, you can safely trim your pet without worrying about cutting your pet.
Adjustable Size Blade and Guide Combs - The adjustable knob on the body of our pet grooming clippers can provide highly accurate trimming, and the size of the blade can be easily adjusted to 0.8mm/1.1mm/1.4mm/1.7mm/2.0mm, also comes with 4 limit combs (3mm/ 6mm/9mm/12mm), which can easily trim pet hair to a suitable length. Even if you have never done it before, don't worry about getting started.
Long Lasting Battery & Rechargeable - USB power supply enables you to charge anytime anywhere. 2200mA High Capacity Li-ion Battery, 3 to 4 hours run time on just a 3-hour charge to finish a full-body clipping on big medium and small dogs. So you don't have to worry that it will stop working and part of the trimming work will be left undone halfway.
100% Satisfied Guarantee: We are committed to providing customer high quality products and the best shopping experiences. If you meet any issue, just send an email to us and all issues will be solved within 24 hours.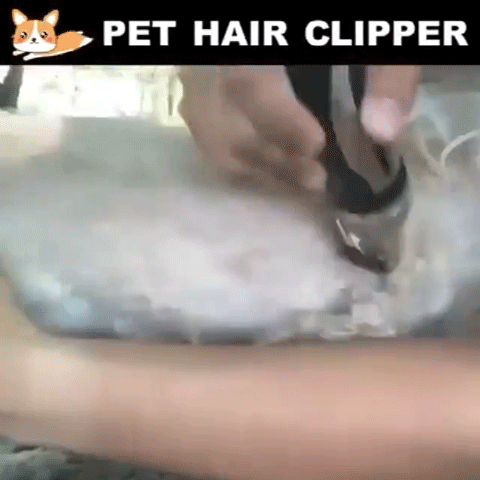 What's Included
Hair Clipper x1,
Limit comb x4 (3mm, 6mm, 9mm, 12mm)
Hairbrush x1
Nail clipper x1
hairbrush x1
Charger x1
Blade Oil x1