Get Fast & Effective Sciatic Pain Relief With Our Special Knee Brace!
Get rid of chronic pain in the lower back / buttocks and legs with our Scaitic Nerve Pain Relieving Brace.
The patented acupressure pad applies targeted pressure to acupoints behind the knee that provide significant pain relief.
See drastic Improvements for Chronic Lower Back Pain, Sciatic Pain, Piriformis syndrome, pregnancy / menstruation related back pain.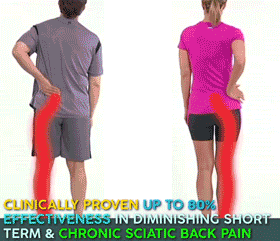 Key Features:
Our Sciatica Brace is the best for fast and effective sciatic back pain relief.
The secret is the patented pressure pad in the brace that applies

targeted pressure

to the pressure point behind the knee that provides

sciatic and related back pain relief.
The brace helps

relieve tension up the sciatic nerve. It helps ease discomfort in your lower back, buttocks and legs. Just slip it on and tighten the strap, and

feel the pain diminish.
Helps reduce both short term and chronic sciatic back pain.

The sciatic brace is quick and easy to apply. Works on either the left or right leg. Discreet and easily hidden under your clothing, yet comfortable enough to sleep in. Adjustable to fit any leg. Holds firm while exercising or at work.
The patented pressure pad in the brace applies targeted

pressure to the specific point that provides back pain relief!

The brace is

FDA approved

for class 1 medical devices!
Quick and easy to apply. The sciatic wrap should initially be worn for up to 2 hours at a time. If it remains uncomfortable, the wrap can be worn for longer periods as needed.
See Drastic Improvements for:
Chronic Lower Back Pain
Sciatic Pain
Piriformis Syndrome
Pregnancy/ Menstruation Related Back Pain